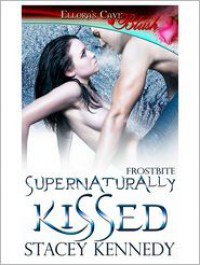 Stacey knows how to write a delightful and witty romance. In this novella Stacey takes this hero and heroine into a world wind romance that leaves you wanting more at the end and I loved reading every bit of it. I read this one before under a previous title and really enjoyed reading it, all but the ending because it was a cliffhanger ugh. *pouting* I hate cliffhangers lol. This time around I enjoyed it even more because Stacey re-wrote the ending and made it fantastic, but more to the point no cliffhanger;) I can't wait to see where she's going to take this ghost storyline next.
Kipp and Tess have a lot of hot heated tension between them and I loved how Stacey adds the Frostbite in the book and it reminds me of the cover, it's very fitting.
I know a lot of you don't like reading ghost romance because let's face it ghost can't have a romance or more to the point sex, so therefore people tend to steer clear of these storylines. But I think Stacey does great job in writing the story she makes it realistic and very sexy, so please give this one a try.
You get a great murder mystery, humor and some very hot moments. I highly recommend this novella to those who aren't afraid of reading about a sexy hot ghost that's in need of tender love and care LOL.